Sound And Lighting Service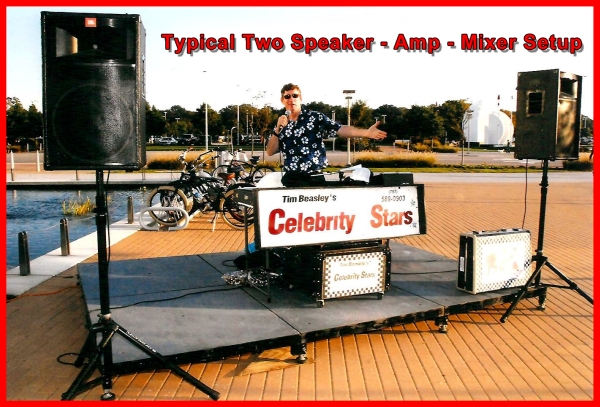 Pro Sound Production, Stage Lighting & Special Effects Lighting.
TBCSTARS has produced a variety of complete "turn key" stage shows for over 25 years, always using the very best in professional top brand audio and lighting equipment. This wonderful combination of sound and lighting equipment and experience is available for your special event!

Just right for smaller to medium-sized events, we deliver, set up and operate a 1,000 watt completely professional sound system with up to 4 microphones and cd player capability for great, clear power to be heard.

It's of course also very important to be seen as well as heard, so we also have top brand stage lighting, again, delivered, set up and operated, with optional special effects lighting that easily adds dazzle to your engagements.
As a licensed and insured event sub-contractor, we've provided sound and lighting for some impressive clients' events.
Sam's Club - Wal-Mart Grand Openings & Sales Events (14 years)
Food Lion Grand Openings and Sales Events
Army Airforce Federal Exchange Service (15 years)
Navy Exchange Service
Marine Corps Exchange Service
City of Virginia Beach Parks and Recreation (12 years)
Beach Events & Clear Channel Live Nation (15 years)
Chesapeake General Hospital
Easter Seals
Markel Corp., Essex Insurance
Advantis
Pepsi
Dodge
These are our brands of equipment
Public address system consists of:
1000 watt Amp system: QSC 850 for 2 main speakers & Fender / Sunn 150 for 2 monitor speakers
8 Channel Mackie Mixer, 4 microphones, 3 wired and one wireless.
2 JBL 15" main speakers on riser poles.
2 Fender / Sunn 10" monitor speakers on floor so guest can understand how they sound.
Pioneer pro cd player for theme music and recorded announcements.
Attractive set up, with black draping concealing electronics.

Optional Lighting:
Two "trees" of stage lighting, up to 4 lights per "tree".
All equipment maintained, delivered, set up and operated by myself.
General fees within a 50 mile radius of Virginia Beach, VA 23454
For mileage up to 100 miles roundtrip, no extra charge.
All mileage beyond 100 miles roundtrip, charged. @ $ .60 per additional mile.
One Hour $250.00
Two Hours $325.00
Three Hours $400.00
Four hours $450.00
Optional Lighting
One Hour $125.00
Two Hours $200.00
Three Hours $275.00
Four Hours $325.00