Austin Powers Impersonator
Austin Powers look alike sound alike impersonator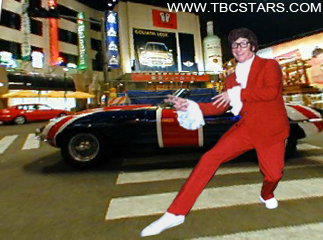 Tim Beasley an Austin Powers look-alike sound-alike impersonator is one wacky double to the "International Man of Mystery." With his mighty mojo-generating moves and hilarious impression of Austin Powers, you'll think Dr. Evil has cloned Tim into a twin of the shagadelic 60's swinger.
The real party starts when Tim as Austin Powers brings a supercharged blast from the past to your event with "Meet & Greet" for paparazzi photos, or a full-tilt "British Invasion" musical show. Tim's Austin Powers impersonation is a secret weapon for taking the audience captive. He's got a "License to Kill" the square and boring out of any party!
Imagine this…Austin Powers actually performs 60's rock n' roll favorites launching into blistering renditions of "Wild Thing", "Satisfaction", "You Really Got Me", "Do-Wa Diddy", "I'm Henry the 8th" and more! Plus, this Austin Powers impersonation can also double as a DJ making it a complete shagadelic shindig!
Tim's Austin Powers impersonation has rocked these clients events:

AMF Bowling Centers Tour
Army Air Force Base Exchanges
BMW Mini Cooper premiere Motor Trend Auto Show
Capital One Bank
Coors Light
Cox Cable Communications
Greenbrier Auto Group
Nextel
Pepsi
STIHL USA
SunTrust Bank
Wal-Mart Grand Opening
And more!